Stock up on pool supplies when you visit us.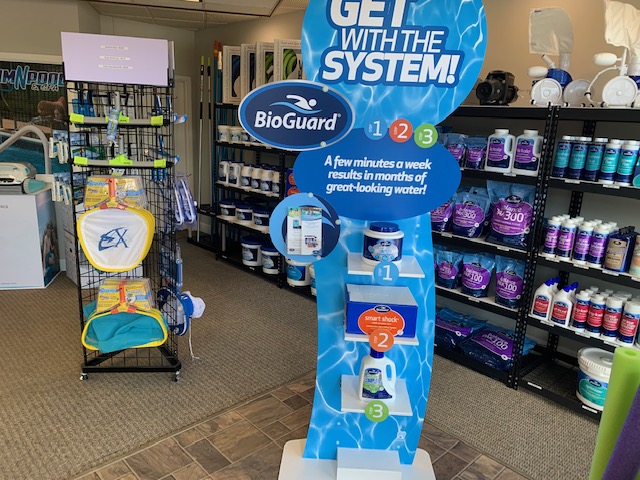 Having a pool is great! You can head outside to your backyard and take a refreshing dip whenever you want. But pools also require a decent amount of maintenance, and you need several pool supplies on hand at all times to keep your pool water clear, blue, and safe to swim in.
At Swim N Pool & Spa, we have all the pool supplies you could ever need in stock. Just visit our storefront and our friendly team members can provide you with helpful information about the supplies you need and how you can better care for your pool.
If you are new to pool ownership, our must-have pool supplies for any pool or spa include the following:
Shock—The chlorine added to your pool on a daily basis will eliminate most of the bacteria in the water, but shock will super-chlorinate your pool.
Test strips—Test strips can help you know which chemicals to add to your pool water to keep it clean and free of bacteria.
Skimmer—This type of flat net attached to a pool lets you easily remove leaves and other debris that gets blown into your pool water.
Vacuum—Either manual or automatic, a vacuum helps you get rid of dirt that accumulates on your pool's walls and floor.
Pool brush—We recommend brushing down the sides and steps of your pool with a long-handled brush at least once every week.
Stop by to stock up on these pool supplies and anything else you need for your pool in Davidson, North Carolina! If you have any questions, feel free to give us a call.
---
At Swim N Pool & Spa, we offer pool supplies in Statesville, Davidson, Mooresville, Troutman, Cool Springs, Union Grove, Hamptonville, Taylorsville, Sherrills Ford, and Mocksville, North Carolina.
Similar Services We Offer: