We offer pool heater covers to help protect your pool heater.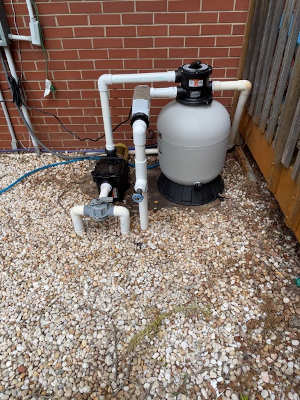 If you have a pool at your Statesville, North Carolina home, you know how big of an investment it is. It requires maintenance and care to make sure the pool is always in good working condition. You need to make sure the chemicals are balanced in the pool and that the water is safe to swim in.
Another thing you need to pay close attention to is your pool heater. Pool heaters are a great investment for your pool. They make swimming more comfortable because you can control the temperature of the water. One thing you need to do to protect your investment is to have a pool heater cover installed on your pool heater.
At Swim N Pool & Spa, we can take care of pool heater covers for you. Different makes and models of pool heaters require different sizes of pool heater covers. We can find the perfect one for your exact pool heater and install it for you. Having a cover on your pool heater will protect your pool heater from damage that can be done by rain, ice, sunlight, and debris like dirt, pine needles, and leaves. A swimming pool heater can be expensive to replace, so it is very beneficial to you to protect your current pool heater so it will last longer and avoid replacing it sooner than you would normally have to.
Reach out to us today if you would like more information about pool heater covers and how they can benefit you. We have a team of experienced pool professionals who can help you with a cover for your pool heater. We do excellent work and are very reliable. You can count on us to do a great job and treat you like a friend. We know you will have a great experience working with us and be happy that you are protecting your investment.
---
At Swim N Pool & Spa, we offer pool heater covers in Statesville, Davidson, Mooresville, Troutman, Cool Springs, Union Grove, Hamptonville, Taylorsville, Sherrills Ford, and Mocksville, North Carolina.