Need an inground pool liner installed? We've got you covered!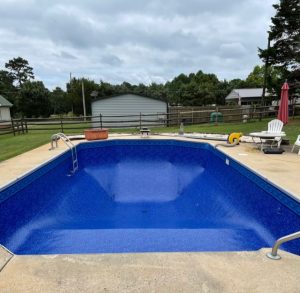 Inground pool liner installation is an important step for many inground pools. A pool liner will not only protect the porous walls of your pool, but it will also give your pool some character with a beautiful color and pattern. Although some people manage to install a pool liner themselves, we do not recommend it. There is a long list of things that could go wrong when you don't know what you're doing. Luckily, we know better. With over 30 years of experience in pool design, installation, and maintenance, we can take care of all your inground pool liner installation needs.
When we install your inground pool liner, you can be confident that we will do the job right. Proper inground pool liner installation requires very precise measurements, but you can rest assured that we have the necessary tools and knowledge to ensure your liner fits flawlessly. When your custom liner is ready to be installed, we'll make sure the pool is free of debris. Then we'll hang the liner and use a vacuum to remove any air pockets or wrinkles. After we cut out the liner where the main drain is, we'll be able to fill your pool with water and get it ready for you to use.
If you need inground pool liner installation for your pool in the Statesville, North Carolina area, we can take care of it. Contact us today at Swim N Pool & Spa to learn more. We're here to answer your questions and provide you with the best pool products and services.
---
At Swim N Pool & Spa, we offer inground pool liner installation services in Statesville, Davidson, Mooresville, Troutman, Cool Springs, Union Grove, Hamptonville, Taylorsville, Sherrills Ford, and Mocksville, North Carolina.