Salt systems provide luxurious pool water without the need to use liquid or tablet chlorine.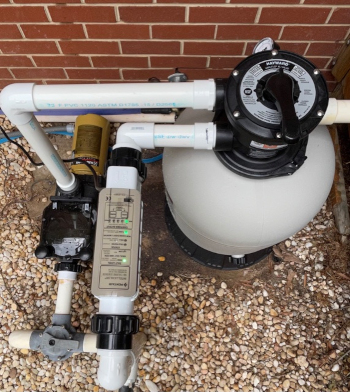 There is an upgrade that many swimming pool owners in the Statesville, North Carolina area have been asking us about here at Swim N Pool & Spa. Salt systems aren't a new innovation, but they are something that not everyone is familiar with. Not only are we a reputable source for pool supplies and services, but also for advice about pool supplies and equipment. We know that salt systems aren't for everyone, so we'll take the time to explain how they work and what is involved, ensuring you are well-informed before you decide.
Salt systems keep your pool water balanced without you needing to purchase, stock, and use either liquid or tablet chlorine in your pool. They operate automatically and cost less to maintain and operate than purchasing chlorine. In addition, the feel of the water is superior, as you don't have that harsh chemical effect.
Salt systems are available for all sizes of swimming pools, and there are even options for hot tubs and spas. We can advise you about the right system based on the size of your pool, keeping in mind that it is best to have a system that is oversized for your pool than it is to go with the minimum. We also recommend going with a larger model if you use your pool a lot. We will take the time to learn about your pool use and expectations so that we can properly match you with the right salt system.
Since more than half of the pools installed these days have salt systems, if you have a newer pool with one, you might be wondering who you can turn to for service. We can help, as we offer repairs for everything we sell. Reach out to us today if you would like to learn more about salt systems.
---
At Swim N Pool & Spa, we offer pool salt systems in Statesville, Davidson, Mooresville, Troutman, Cool Springs, Union Grove, Hamptonville, Taylorsville, Sherrills Ford, and Mocksville, North Carolina.
Similar Services We Offer: